HTC Holiday Car Charger
Are you looking for a different product or model?

Holiday Duracell Ładowarka Samochodowa USB Podwójna 1A + 2.4A

---

Input voltage/Power source: DC , Low voltage DC input
Gwarancja: 3 LATA

---

73,2 Zł z VAT - Wysyłka gratis

✔ Dostępny
Specification
Description
Quick search number: H55FHF
Gwarancja: 3 LATA
Role of product in providing mains power: Car DC adapter , Allows a portable device to plug into a car cigarette socket
Input voltage/Power source: DC , Low voltage DC input
Napięcie: 5.0 V
Waga: 17 g
Wymiary: 50.0mm x 20.6mm x 20.6mm
Źródło Zasilania Ładowarki: Gniazdo Samochodowe

Ładowarka USB Duracell jest idealnym produktem dla osób, które chcą ładować swoje urządzenia w samochodzie.

Ładowarka jest kompaktowa, wydajna, i w wygodny sposób wykorzystuje energię z pojazdu do ładowania urządzeń zasilanych przez USB.

Wystarczy włożyć ładowarkę do gnizadka zasilania w pojeździe i podłączyć urządzenie do portu USB. Wbudowany wskaznik zasilania zapali się pokazując, kiedy ładowarka dostarcza energię.

Ładowarka łączy innowacyjną technologię w tak małym opakowaniu, zapewniając dostarczenie energii do dowolnego urządzenia mobilnego.

Kompaktowa konstrukcja z możliwością stałego podłączenia
Wygodny Port Ładowania USB
Wskaźnik Zasilania LED ON
Zapewnia 5V prądu stałego ładowania
Zasila Kindle,iPod,iPhone,Blackberry,Smartphone,MP3 player oraz więcej urządzeń

Oferowany produkt nadaje sie do popularnych 12-24v gniazdek,
nie jest kompatybilny z niestandardowymi wejsciami

| | | |
| --- | --- | --- |
| Wskaźnik Zasilania LED ON | Prąd Stały | Port Ładowania USB |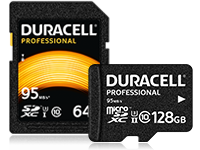 Nasze oryginalne karty pamieci Duracell sa dostepne w roznorodnych rozmiarach i typach, na ich jakosci mozesz polegac. W naszej ofercie dostepne sa zarowno oryginalne SD jak i MicroSD karty pamieci, jak rowniez duzej pojemnosci SDHC i MicroSDHC karty. Niektore MicroSD karty pamieci sa dostepne wraz z adapterami, male MicroSD karty sa uzywane w urzadzeniach majacych wejscie na karte typu Mini SD lub SD, badz tez moga byc bezposrednio podlaczone do wejscia USB w Twoim komputerze. Posiadamy rowniez w ofercie karty typu CompactFlash, karty pamieci USB oraz komputerowe Multi-card czytniki.
Prosze wybrac typ karty pamieci, odpowiedni do Twojego urzadzenia.