Olympus X-42 Battery
Are you looking for a different product or model?

X-42 Duracell AA 4 sztuki

---

Pojemność: 1300.0 mAh
Battery Chemistry: NiMH

---

65,88 Zł inc VAT - Wysyłka gratis
16,45 Zł per battery

✔ Dostępny
Specification
Description
Quick search number:

4W342V

Liczba baterii:

4

Function battery performs:

General , General purpose battery with many applications

Battery Chemistry:

NiMH , Newer type of rechargable

Napięcie:

1.2 V

Pojemność:

1300.0 mAh

Moc Wyjściowa:

1 Wg

Waga:

116 g

Wymiary:

45 mm x 45 mm x 12 mm

Bateria typu:

AA

Technologia:

Duracell Rechargeable

Typowy Użytek:

Multi-Purpose

Akumulatory Duracell AA 1300mAh. Nie tylko będzie można użyć setki razy każdy akumulator, ale pozostają one naładowane, także wymagają puźniej mniejszego doładowania *. Te wysokiej mocy akumulatory AA 1300mAh NiMH nadają się idealnie do użądzeń wymagających dużej mocy lub najczęściej używanych urządzeń, takich jak cyfrowe aparaty fotograficzne

Naładuj setki razy i zaoszczędzić setki złotych.

*Vs. zwykłe akumulatory, gdy nie są używane.

| | | |
| --- | --- | --- |
| Hold their charge for 6 months* | Last upto 45 Hours in a PC Mouse | Re-charge 100's of times |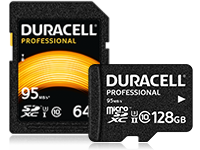 Nasze oryginalne karty pamieci Duracell sa dostepne w roznorodnych rozmiarach i typach, na ich jakosci mozesz polegac. W naszej ofercie dostepne sa zarowno oryginalne SD jak i MicroSD karty pamieci, jak rowniez duzej pojemnosci SDHC i MicroSDHC karty. Niektore MicroSD karty pamieci sa dostepne wraz z adapterami, male MicroSD karty sa uzywane w urzadzeniach majacych wejscie na karte typu Mini SD lub SD, badz tez moga byc bezposrednio podlaczone do wejscia USB w Twoim komputerze. Posiadamy rowniez w ofercie karty typu CompactFlash, karty pamieci USB oraz komputerowe Multi-card czytniki.
Prosze wybrac typ karty pamieci, odpowiedni do Twojego urzadzenia.