Nikon CoolPix L810 Battery
Are you looking for a different product or model?

CoolPix L810    

---

Pojemność: 2500.0 mAh
Battery Chemistry: NiMH

---

86,24 Zł z VAT - Wysyłka gratis
21,54 Zł per battery

✔ Dostępny
Specification
Description
Quick search number: 82NR89
Liczba baterii: 4
Function battery performs: General , General purpose battery with many applications
Battery Chemistry: NiMH , Newer type of rechargable
Napięcie: 1.2 V
Pojemność: 2500.0 mAh
Moc Wyjściowa: 2 Wg
Waga: 116 g
Wymiary: 49.0mm x 14.5mm
Bateria typu: AA
Technologia: Duracell Rechargeable
Typowy Użytek: Multi-Purpose

Baterie Pre-Charged to najnowsza technologia, która oferuje tysiące naładowan.

Duracell Pre-Charged maja bardzo niski poziom rozladowania, co oznacza, że zachowują 95% naładowania będąc w opakowaniu, nawet do jednego roku.

Baterie Pre-Charged moga byc ładowane nawet do 1000 razy, jest to dobe dla ochrany środowiska i twojej kieszeni. Idealne do ładowarek firmy Duracell.

| | | |
| --- | --- | --- |
| Gotowe do uzytku | Pozostaja naladowane na okres ponad roku | Do 65 godzin użytkowania w myszy do komputera. |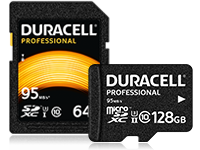 Nasze oryginalne karty pamieci Duracell sa dostepne w roznorodnych rozmiarach i typach, na ich jakosci mozesz polegac. W naszej ofercie dostepne sa zarowno oryginalne SD jak i MicroSD karty pamieci, jak rowniez duzej pojemnosci SDHC i MicroSDHC karty. Niektore MicroSD karty pamieci sa dostepne wraz z adapterami, male MicroSD karty sa uzywane w urzadzeniach majacych wejscie na karte typu Mini SD lub SD, badz tez moga byc bezposrednio podlaczone do wejscia USB w Twoim komputerze. Posiadamy rowniez w ofercie karty typu CompactFlash, karty pamieci USB oraz komputerowe Multi-card czytniki.
Prosze wybrac typ karty pamieci, odpowiedni do Twojego urzadzenia.